MoMA PS1, April 1, 2018
In "Vaginated Chairs"- the vagina is a site for perception, for new ways of listening and perceiving, and, as Masaoka argues, is the Third Ear. Come sit on our humming and vibrating chairs, each tuned to a specific frequency and made into a kind of loud speaker. Some participants will be wearing handmade vaginal inserts that track the internal sounds of the body.The artist will read excerpts from her essay/manifesto from Kunst Musik (Germany, 2018)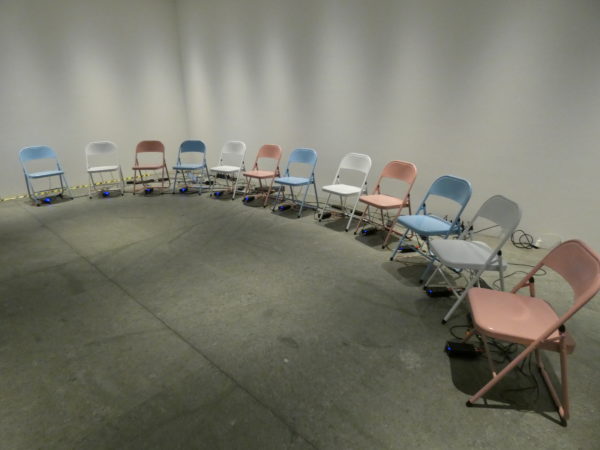 The Vaginated Chairs;
A Way of Listening
16 Chairs Tuned to Specific Frequencies
Brightly colored and pastel metal chairs electrically modified to be an actual loud speaker array with mathematically tuned sounding chairs.Dedication: To Pauline Oliveros, my dear friend, colleague and mentor, who developed an innovative listening practice called Deep Listening. For her, listening was a holistic and integrative daily activity, a kind of philosophical approach, and a cosmic way to be and exist in the universe. As a composer, thinker, musician, improviser, and loving human being, she brilliantly integrated meditation and therapeutic practices into the field of music and sound. She began her sessions with people standing in a circle and doing breathing and movement exercises. Her approach and sensibility directly encouraged my ideas on vaginal listening and the Vaginated Third Ear, although I was never able to discuss it with her, as she passed away on Thanksgiving Day 2016, a few months after my first "Vagina Dialogues." Her partner, Carol Ione, herself an innovative therapist and artist, wrote a poem or the event –published at the end of this essay– called "Vibrating Women" which was read at the Fridman Gallery exhibition, and again at the Fifth Avenue Park Avenue Armory memorial in 2017.
A note on the term "sonification" and "mic and piezo" that is used in this article: In an artistic rather than a scientific context, sonification is not considered a literal or exact representation of the subject of sonification. Rather, it is an interpretive and expressive form. The term "mic" is short for "microphone," or a means for the amplification of sound. "Piezo" pickup is a type of microphone which picks up the physical vibration of the body and converts it to a voltage.
Why Vaginas?
Since the early 1990's an important line of inquiry in my work has been an insinuation of the natural world into performative projects, and the pursuit of an expression of sound of various processes of behavior and activity, and interpreting and charting sound and/or data in a multi modal and interpretive mediation. For the past 25 years, I have employed such technologies as, hand harvested sound and data employing medical equipment, EKG machines, fetal heart monitors, stethoscopes, and EEG brain wave analyzers. Perhaps it's odd, but it wasn't until a year after this project that I realized it actually followed a loose yet long thread of my work.
It was the summer of 2016, and I was preparing the 10 metal folding chairs, tricked out with 2 transducers from Parts Express, handmade vaginal inserts with small but sealed piezo pick-ups hidden in tampons, a 16 channel interface, 8 amplifiers, 4 mixers and multiple computers gathered together for the first "proof of concept" of Vagina Dialogue. Each chair would be sent particular computer generated frequency in the form of a sine wave that transformed to a triangle wave over time. In technical consultation for Vagina Dialogues, I approached Bob Bielecki, a most extraordinary sound artist, engineer and inventor, with whom I had worked on previous projects, LED KIMONO a few years prior. I remember from that earlier project that he had warned me about the dangers of electrocution with the hundreds of the LED's I was hand sewing into a kimono coat to be worn by a human. I was keen to have his opinion about how best to mic the inside of a vagina.
Photo #1 Caption: Vagina Dialogues, Blum Hall, Bard College. 2016
The first iteration of Vagina Listening Sessions and Vagina Dialogues (2016) included tiny microphone devices inserted into the vaginas, amplifying the movements and sounds in the vagina (see photo#1) Having an input and output of data to and from the vagina was emblematically giving voice to the internal sounds that couldn't be perceived without technological means. Sounds recorded from the vagina were then mixed into the signals sent to the "sounding chairs" as we called them. With this technological set up, the vagina could then "give and receive sounding and vibrating activity, an output of sound which was then summed to the computer and back to the chairs with speaker wire. Participants included Nadia Botello, a sound artist who has worked using vagina sounds from a dancer and generously shared her experiences, other participants included artists Suzanne Kite, Marianne Shaneen, Christiane Huber, Katrina Del Mar, and Jessica Piper was indispensible.
Bielecki was confident that tiny piezos were the best way to go and would be safe to insert into the vagina. Working in the middle of the night by myself in the studio at Bard College, I was using a glue gun to glue the piezos to the plastic tampon inserts. The glue gun's temperature gauge was defective, and the glue gun overheated and hot liquid glue exploded in my hands, shooting the glossy sticky glue over the fingertips of my hand. From the intense heat, my body went numb and into shock. I tried to wipe the hot glue off with my other hand, but doing so only made things worse, as now both hands had burning fingertips. I ran to a water fountain and tried running the water over my fingertips to cool them off. It helped a little. Eventually I made it to the Emergency Room at the Burn Center in Hudson County, and had my hands treated for second degree burns. Being a musician, my hands and fingers are a very protected and valuable part of my body. So I was quite shaken by this experience.
I looked at my watch in the Emergency Room, and it was 3:00 AM and the piece had to be ready in 14 hours for the start time of the performance. So I went back to the studio, worked through the night, and finished it with bandaged hands.
By noon, I was receiving last minute email messages from the seven participants as to what kind of "vagina insert" was to be used, and some concerned emails about the electrical wires, complications with menstruation. It was clearly something that none of these participants had tried before, and these young people (most under 30) were very enthusiastic, and engaged with the idea, and I became aware that there was visceral passion in a new generation willing to consider and embrace these feminist tropes. I was exhausted, but also elated that I managed to finish the job with my injured and burned hands in bandages. The piece went off as planned and the impromptu discussion afterwards kept people staying for hours.
Photo #2 Fridman Gallery, Open Ears Festival 2017. Some wires can be seen exiting from peoples' pant cuffs, others hid wires behind their pants.
The next performance was 6 months later at the Fridman Gallery in Soho, New York, City. This time, there were other generations of women identified, transgendered participants, including feminist writer Suzanne Cusick, actor Winsome Brown, writer Laurie Stone, composers Amirtha Kidambi, Lucie Vítková, Lemon Guo, Taja Cheek, Evdoxia Ragkou, Moara Passoni, Diandra Kalish, Mel Elberg and others. Some participants had particular interests in the taboo of menstruation, issues of censorship, and the banning of the vagina imagery in Japan. Some had a special relationship with Pauline Oliveros, and were keen to participate in projects that expanded upon her ideas, and some were interested in the project itself.
For this version at the Fridman Gallery, I designed new vaginal inserts made from non-toxic silicon vaginal massage "bullets", and composer Danielle Dobkin worked on the assembly. It felt odd and yet appropriate to go to several of the many sex shops that exist in Manhatten, and purchase models inserts, internal vaginal massages and other items as "research." The supply list read humorously like another kind of sex adventure: Condoms (to keep the audio inserts clean from the wearer), lubricant (so the insert would not have uncomfortable friction), all of the internal vagina vibrators the shop sold (I used these to modify for my needs), tampons, cotton pads etc.
Finally, on the night of the performance, it was a great honor to have Ione write us a poem for the occasion, which Ashley Grier read at the beginning of the performance.
There were some odd and unexpected elements, such as the audience for the first twenty minutes being all men, but gradually becoming more gender balanced closer to the start time. There was considerable time allotted to questions from the audience, which were plentiful and thoughtful, and it was clear no one had experienced anything like this before, from both the audience and participants point of view.
The presence of Pauline Oliveros, who had passed away two months prior, was palpable. Her partner had written a poem for us, and we had come together to think about listening, sending and receiving sound. I had not yet developed the concept of the "Vagina as the Third Ear," a concept and theory I would be developing later that year.
A Vibration of Women
by IONE
for Pauline
Dear Women of vibration
Dear Women
Dear Vibrations
Dear Vaginas
you not so secret
smooth
linings of silk
sounding and singing
through time/space
dreaming
mmmmmmmm
dimensions of inner life
dimensions between lives
life times before
life times beyond
Hey,
Listen!
Pauline is alive
and loving your
crazy, scintillating
chorus
Speak up!
Speak out!
Hummmmmm!
1/11/17 Kingston, NY
Photo #3 non toxic silicon inserts with tiny sealed piezos embedded inside.
Photo #4. Winsome Brown at the Park Avenue Armory, 2017
For both versions of Vagina Dialogues at the Park Avenue Armory, New York, (2017) and Prentis Hall, Columbia University (2017), there were no vaginal inserts of microphone pick ups. The installation had more conceptual reading, and men sat on the sounding chairs and participated as well. No vaginas were "wired in" and there was no technology connecting their vagina to mixer and my computer. The literal reading of "Dialogue" became abstracted, an in some ways, I liked the more inclusive and more interpretive approach to the ideas of the work. There was also casualness with people coming and sitting and leaving as they pleased.
As the former was a tribute to Pauline, the idea of a vagina listening environment seemed a closer fit. The latter version that was installed at the Transducer Festival organized by Matthew Goodheart, then a post doctorate at the Computer Music Center at Columbia University, which was a clearly a more technical and academic environment, and the social context of these varied versions could not be more different.
These diverse contexts aided me in understanding how the work functioned and how people responded to the array loud speaker chairs in these contexts. People were attracted to the brightly colored chairs, and the long arc made an inviting shape for those needing a rest from the academic lectures and discussions. Listening and feeling the sound and vibrations of the chairs also provided a topic of conversation, and often people would converse with others, as social space was a clear element of the installation. Indeed, I came to realize it was a different piece, and more appropriately titled Vagina Chairs or Sounding Chairs, as the anatomical element of the vagina became de-emphasized. I enjoyed the malleability of the concepts at play, and felt the fluidity of meaning was consistent with the construction of the term "Vagina" itself.
Photo # 5. Danielle Dobkin and Lemon Guo preparing the transducers and amplifiers at the Park Armory, New York City, 2017
++
How had I made this circuitous path towards gathering sounds in the internal female sexual anatomy?
From the mid 1990's I had an interest and art practice as a composer – using a wide spread of technologies — in amplifying and sonifying living things, including the internal workings of the human body, including What is the Sound of Naked Asian Men (1995) Thinking Sounds, using brain interactive software and EEG electrodes sonifying brain's Delta, Theta, Alpha and Beta waves (1995) In Pieces For Plants, the data in form of "microvolts" (a microvolt = 1,000,000th of a volt) of house plant's response was mapped to parameters such as pitch, rate and density. I began a letter writing campaign to hospitals asking for donations of their unused equipment, and received new EKG machines and small fetal heart monitors. I sonified brain output data in real time, and used "ultra sound" pre-natal monitoring gadgets for hearing the sound of blood rushing in the veins which were then processed with the computer and sent to multiple loud speakers. Years later, I created pieces using the data response of houseplants for creating interactive performances pieces. Since the early 1990's, I have been creating a body of work using sounds and data from the human body in real time, and data from house plants using the computer and medical equipment, and Pieces for Plants using the data output of physiological response of plants and mapping them to sound.
These were commissioned and performed at art institutions including Yerba Buena Center for the Arts, The San Francisco Electronic Music Festival, The Lab, San Francisco, NIME, Ircam, Paris, France, the Lincoln Center Out of Doors Festival for Homemade Instruments, New York, Rensselaer Polytechnic Institute, NY, New York University, Chapel of the Chimes, Oakland, CA. Beyond Baroque, Santa Monica, CA., and in the installation 'Blur of the Otherworldly, Contemporary Art, Technology, and the Paranormal' at the Center for Art and Visual Culture, University of Maryland.
A common thread in these pieces was the desire to make known, or make audible, the inaudible or somewhat silent or quiet sounds of a person or other living beings. The "reveal," the hidden, the hint of traces left behind and eventual erasure are concepts within and around these compositions and performances. Animated with technological gadgetry, (however sophisticated) the affect of these pieces evoked a spy gearish, voyeuristic, pseudo-scientific pose, colluding with the uncanny, spiritualism, metaphysics, the conspiratorial, and a host of signifiers. Another reading or interpretation, and another perspective which I also subscribed to, suggested the indigenous religion of Japan, or Shintoism, a spiritual space where living beings reveal their voice, power; transformative states, and of course readings of the body. More than twenty years after doing my first brain wave piece – consisting of mapping brain activity to sonic parameters – it seemed not a far reach to sonify (sic) the vagina in an art context.
Vagina Dialogues and its variant Vagina Chairs, has resonance for people beyond the simple sound and technology be used. The etiology of the vagina its societal relationships is complex, fluid and in a state of change. Everyone either has a vagina, or knows someone with one. It is unavoidable, yet rarely talked about or theorized. My theory, that the vagina is the "Third and Vaginated Ear" will be forthcoming in some form or another, an essay, a piece, or both! So far this year, performances are forthcoming at the Kuntz Muzeum in Bonn, Germany and PS1 MoMA in 2018.
Photo #6 Vagina Dialogues, Transducer Festival, Computer Music Center, Columbia University, March 2017
addendum
The following music composition (Opus 2 of Vagina Music and Listening for Vagina Ears) was curated into a symposium called "Still Listening," and was performed at McGill University by the ensemble Novarumori and conducted by Amy Horvey. Also included were works created by Christian Wolff, Terry Riley, Annea Lockwood, Ellen Fullman, Anne Bourne and Pamela Z and others.
Text Score, 2017 ASCAP all rights reserved
Vagina Music and Listening for Vagina Ears (Opus 1 and 2)
(Non normative queer vaginas, and aren't all vaginas queer?)
The vagina is your third ear
—-
Opus 1. For any number of people with or without instruments and a "reader"
The "reader" reads the following text to any group of vagina identified people.
The participants can be standing, but preferably sitting and in a relaxed position.
For vocalists, non-specific instrumentalists and a conductor. The group is divided into two groups.
The first group the Designated Lead vocalists/instrumentalists sing/play a pitch and sustain it.
The second group joins in unison, and then slow lowers pitch to half a pitch below.
Then the Group II slowly starts to sing large tremolos in unison that go at least a major second tremolo.
———————–
Opus 2. Vagina Music and Listening for Vagina Ears
READER: Bring your attention and energy to your vagina. (Pause) Keep it there. (Pause)
Become aware of your vagina as the center of the Universe, as the center of your
energy source. Breathe and feel the energy pouring from your vagina as you
exhale. Inhale and exhale three times. (Pause) Listen to the sounds around you,
and feel the sounds with your vagina as if they were your ears. Imagine you
have three ears, and your vagina is your third ear, in the center and in symmetry
with the ears on the side of your head. Feel that your vagina and the ears on
your head are deeply connected and form a triangle, like three ears. Live in that
thought and mental image, breathe and enjoy the moment that we have together
to do this.
Longer pause.
Give birth through your vagina to a new energy emanating from your rejuvenated
-power -life energy source, your vagina.
Make a sound either vocally or with a musical instrument while being aware of
your vagina as a listening and sensing thing. It can be a very soft sound, barely
audible, or very loud. Listen to those around you, and make sounds that you
and your vagina want to hear.
End piece after 85"
–Miya Masaoka, New York City 2017
KunstMuseum Bonn